One Person's Story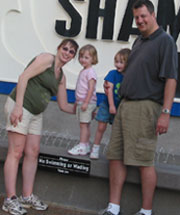 Karen Frigstad experienced her first symptoms of ataxia when she was 22 years old. While on winter break during her senior year of college, she noticed that her hands would tremble, even in the warmth of her parents' Eagan home. When she signed her name, she would see "wiggles" in her penmanship. Later, when she returned to school, she fell in the bathtub.
During her spring break, Karen went to a neurologist, who diagnosed her as having ataxia and recommended that she visit the experts at the University of Minnesota. She scheduled an appointment at the University of Minnesota Ataxia Center, where they confirmed that she had Fredereich's Ataxia. At that point, she promised herself that she would try to stay one step ahead of her condition. Says Karen: "The doctors at the University of Minnesota told me to always be active, I had to be active. Once I came out of the initial shock of the diagnosis, I realized I still have a life to live. I wanted to teach, get married, have children. I wasn't going to let ataxia stop me from doing that."
Karen has kept her promise. Following her graduation from St. Norbert College in Wisconsin, she moved back to the Twin Cities and became a preschool teacher. On July 4, 2002, she married her husband, Todd, on the grounds of the State Capitol to raise Twin Citians' awareness of ataxia. One year later, she had twin daughters Anna and Julia. Then in July of 2006, their son Jack was born. Life just keeps moving, and Karen has moved with it. "I get an incredible amount of help from my family—my mom, sister, brother, dad, my mother-in-law, and father-in-law," says Karen. "And I couldn't go through this journey without Todd, who is an amazing, very involved father and husband."
In 2002, Todd and Karen's family founded Karen's Hope, a charity golf tournament, silent auction, and dinner to generate public awareness about ataxia and raise money for research at the University of Minnesota. During its 11 years, Karen's Hope raised over $500,000 for the cause.
Karen continues to struggle a bit more with her symptoms, but as she lives with ataxia, she has also learned more about how her body reacts to the condition. She knows that sleep deprivation, fatigue, and cold temperatures can exacerbate her symptoms, so she plans accordingly. "I try not to make decisions out of fear or on the basis of my condition alone," she says. "I never want to look back and say I didn't do something because I was too scared. That would mean that my ataxia is running my life, and that is just not an option."